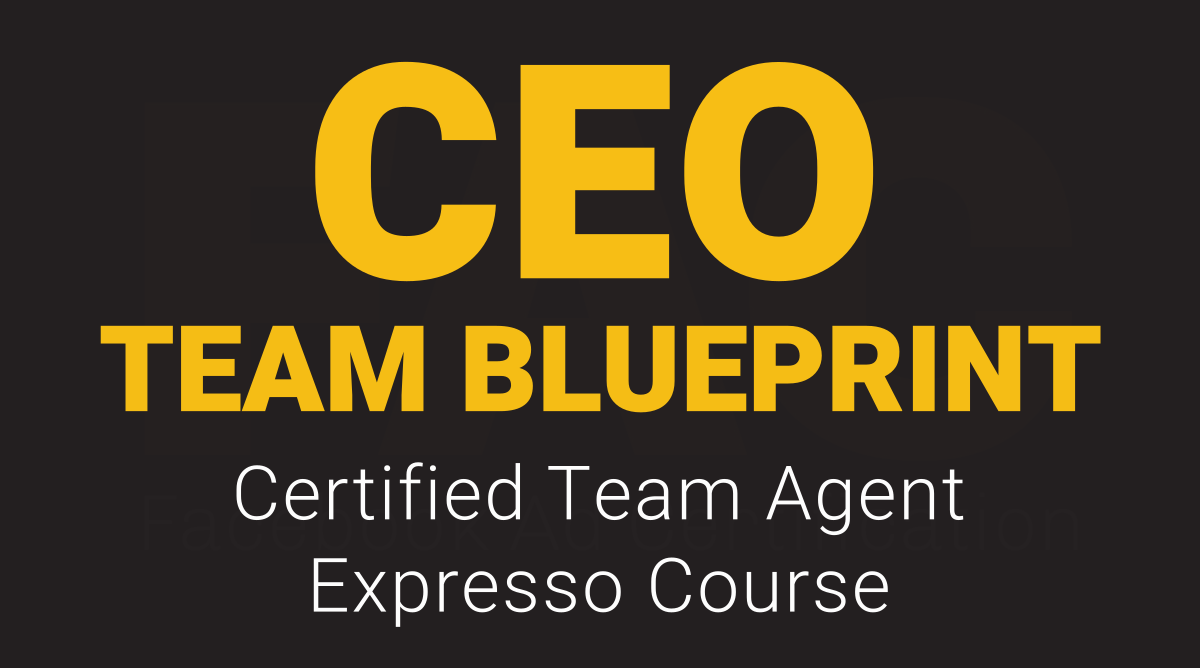 Finally! A Proven Way to Build a Dominant Team, Create
More Net Profit and Avoid Working Endless Hours
Here's the perfect solution if you want to build a dominant team and Net over $1 million a year without ever having to go on appointments or deal with clients (even if you have no experience running a CEO-model real estate team).
This is the exact team-building background and blueprint that delivers Jeff over $1 million a year Net without ever having to go on appointments or deal with clients.
If you want more freedom to enjoy life while making more money and helping others become more successful, then this is the course for you.
Buy today in confidence with my 30 Day Risk Free Money Back Guarantee.
"The content of this course is amazing! The CTA course is a deep dive into the systems and mechanisms that make Omaha's Elite Real Estate Group work. Anyone considering building a team and taking it beyond where the "common team" operates today, should definitely invest here...I can't recommend it high enough, 6 stars!!" - Steve Schwab, Owner of Portland Lifestyle Team
Course Description
Course description
In this Certified Team Agent Expresso course, top real estate experts Jeff Cohn and Pat Hiban give you an in-depth look at how Jeff built his nationally-ranked team - going from 80 transactions to 600+ transactions in only five years! You'll discover the evolution of his team success, the exact steps of how Jeff transitioned from Rockstar model to CEO model, and the mindset shift you must make to build a dominant, profitable CEO model team.
"Stepping out of the day-to-day role of servicing clients and focusing our efforts on helping make other agents successful by offering them an incredible culture, leads, accountability, and ongoing coaching & training has been the ultimate game changer. Anyone is capable of doing this at some level!" - Jeff Cohn
The CEO Team Blueprint Features:
9 CEO Team Building Videos
8 Quizzes to Ensure You Learn the Material Inside and Out
Email subscription to Rebus Real Estate Profits Insider
Course Completion Certificate
30 Day Risk Free Money Back Guarantee
Reviews (1)
Great content
by Bjorn Jonasson
Another winner by Pat and Jeff. Great content, Bjorn Jonasson The K Company Realty
Great content
by Bjorn Jonasson
Another winner by Pat and Jeff. Great content, Bjorn Jonasson The K Company Realty
Course Curriculum
---
Evolution and Year 1 Video
Evolution and Year 1 Quiz
Evolution and Year 2 Video
Evolution and Year 2 Quiz
Evolution and Year 3-4 Video
Evolution and Year 3-4 Quiz
Going from Rockstar to CEO Part 1 Video
Going from Rockstar to CEO Part 1 Quiz
Going from Rockstar to CEO Part 2 Video
Going from Rockstar to CEO Part 2 Quiz
Going from Rockstar to CEO Part 3 Video
Going from Rockstar to CEO Part 3 Quiz
How to Let Go Part 1 Video
How to Let Go Part 1 Quiz
How to Let Go Part 2 Video
How to Let Go Part 2 Quiz